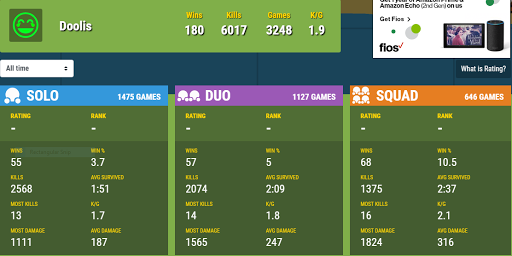 Im at 180 wins, 6017 kills, 3248 games, and about 2 kills per game now this is epic:
And my best game as seen in the squads mode is 16 kills and 1824 damage.
Also In my opinion the best guns in the game are Saiga-12, MP220, (this might be weird) Mac-10, Dual Deagle, M4A1-S and obviously M249. Out of these the best is AWM-S by far (and the key to sniping is to put the crosshair a little in front of where the person is going)
In my opinion the best skins are Ghille Suit ( its hilarious), Water Elemental, Falling Star, Celestial Garb, and The Professional. Out of these the best skin is Celestial Garb (but Ghille Suit is a close second).
My favorite combo in the game is Mac-10 and MP220. Because it is easy to get these two guns and they both have great DPS and common ammo.
And Finally, USE GRENADES THEY ARE GOOD INCLUDING SMOKE GRENADES THEY ARE GOOD.
I've been playing this game for a while now about 4 months and It keeps getting better and the thing I would like to see most is a 1v1 Playground type thing or like Private Servers because my friends think they are better than me xD. - From a fan
PS: DO NOT ADD BUILDING! I like the game originally how it is and implementing it would be weird so just don't do it that is completely changing the game I love bye.